Outline
Establishment
May 1, 1969
Head Office/ Factory
4-4-1 Ikedacho, Yokosuka City
TEL046(835)4600(Main)
Uchikawa First Factory
1-7-14 Uchikawa, Yokosuka City
TEL046(835)4911
Uchikawa Second Factory
2-2-4 Uchikawa, Yokosuka City
Toyota Office
8-124-301, Yamanote, Toyoda City
TEL0565(28)2060 (Main)
Iwate Factory
88-3 Aza Nodo, Tagawatsu, Higashiyamacho, Ichinoseki City
TEL0191(35)3911 (Main)
Tochigi Office
1422-301 Tomiokacho, Sano City
TEL0283(86)9011 (Main)
Capital
2hundred million yen
The Number of Employees
453
Land/Building
Lot Area:37,672㎢
Building Area21,867㎢
Correspondent Bank
Bank of Yokohama,
Mitsubishi UFJ Financial Group,
Resona Bank
The Executive
Chief Executive Officer: Takeshi Miyazaki
Representative Operating Officer: Katsumi kubota
Representative Operating Officer: Teruyuki Sawa
Director: Hideo Masuda(Part-time)
Executive Directors: Kosuke Kohashi,
Makoto Owada
Auditor: Takanori Ohtake,
Hironori Matsumiya(Part-time)
Main Clients
Toyota Motor Corporation
Toyota Auto Body Co.,Ltd.
Hino Motors Ltd.
Daihatsu Motor Co.,Ltd.
Toyota Industries Corporation
Nissan Motor Co.,Ltd.
Fanuc Corporation
Sumitomo Heavy Industries Ltd.
Toyota Motor East Japan,Inc.
Nissei Plastic Industrial Co.,Ltd.
Toshiba Machine Co., Ltd.
Mitutoyo Corporation
NIIGATA MACHINE TECHNO Co., Ltd.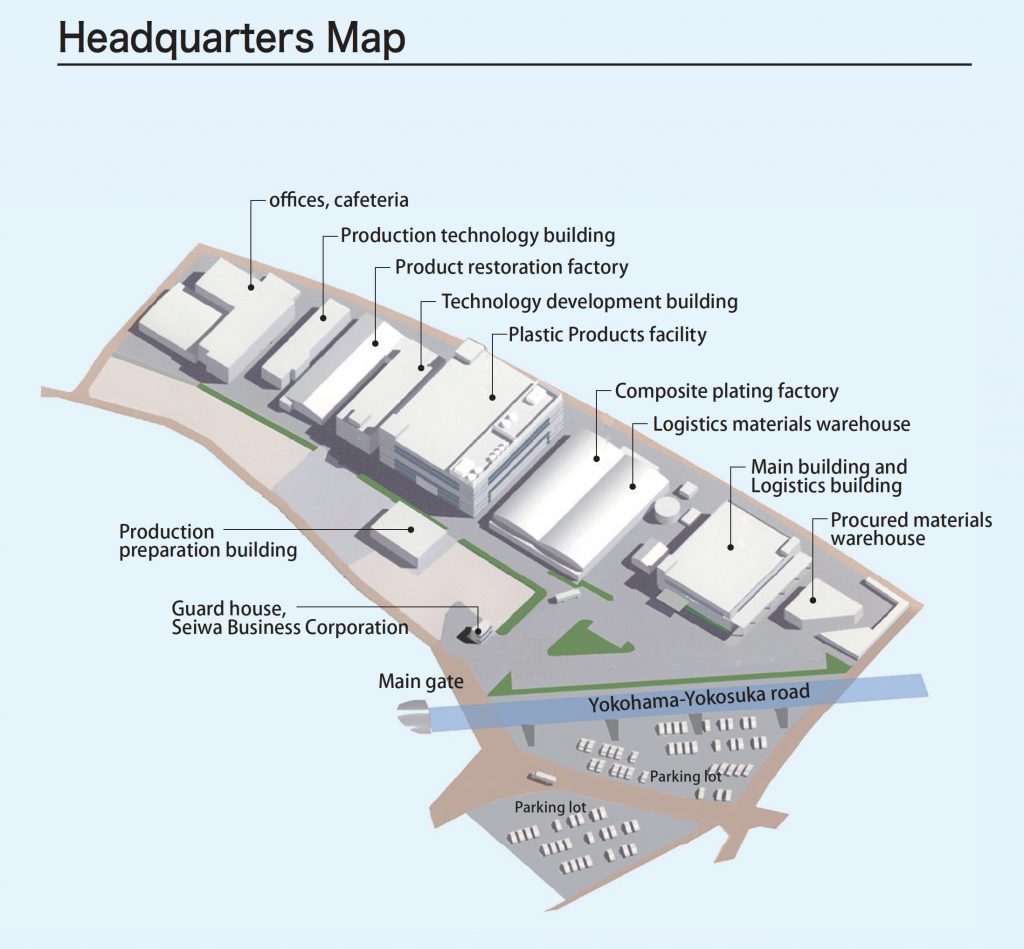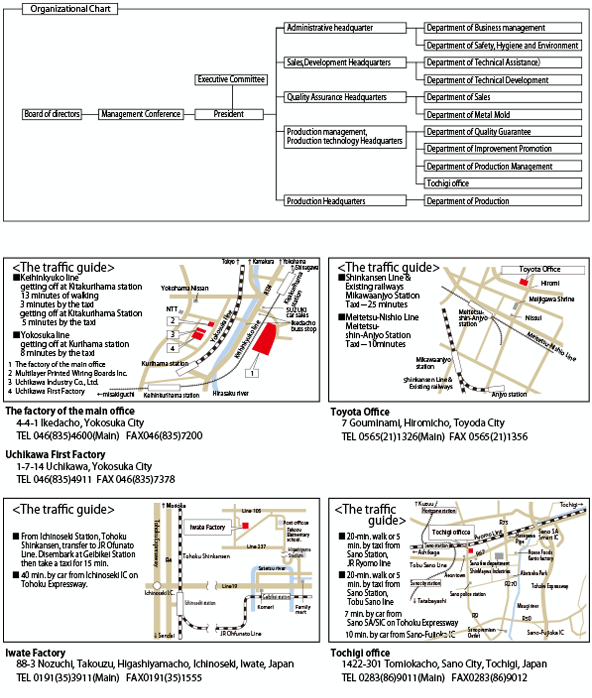 Associated Company
Uchikawa Industry Co., Ltd.
Establishment
May 12, 1972
Location
1-7-11 Uchikawa, Yokosuka City
TEL 046(835)5229
Capital
25,000,000 yen
Number of Employees
45
Representative
President and representative director Kenji Yotsukuri
Business Contents
The manufacturing and sales of the motor vehicle parts (Resin molding, Coat and Assembling)
Seiwa Business Corporation Inc.
Establishment
February 5, 1985
Location
4-4-1 Ikedacho, Yokosuka City
TEL046(834)7717
Capital
10,000,000yen
Number of Employees
56
Representative
President and representative director Teruyuki Sawa
Business Contents
Care, welfare and medical industries, comprehensive insurance agency business,
the sale of goods, transportation industry, other
PT.Resin Plating Technology Co., Ltd.
Establishment
March 21, 2013
Location
Block LL-31, MM2100 Industrial Town, Bekasi, West Java, Indonesia
TEL (+62)021(898)0510
Capital
$ 100,000,000
Number of Employees
336
Representative
President and Representative Director: Tomohiro Arakawa (Toyota Auto Body Co., Ltd.)
Vice President and Director: Takeshi Ono (Executive Officer, Kanto Kasei Co., Ltd.)
Business Contents
Business Contents: Produces and sells motor vehicle parts (resin molding, plating, coating, and assembly)