The process of the integrated manufacture of the present products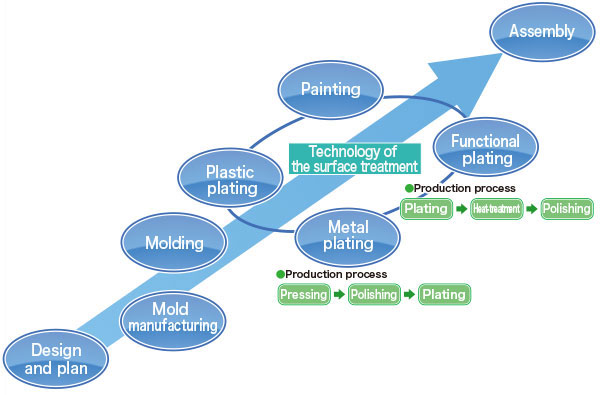 Design and plan
We perform the design to adjust it to the concept of the car under development, starting from the image by preliminary discussions with the clients, and work out the product design to incorporate quality and cost into it by using CATIA(CAD) from the design data. And, we verify the malfunctions of the molding by the flow analysis of CAE beforehand and accomplish the product design.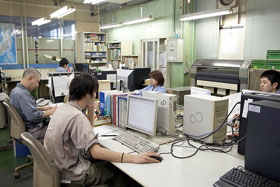 Mold manufacturing
We work out the structure design of the mold by using CAD based on product data (CATIA), and after the cutting simulation by using CAM, we do the unmanned, high-precision and high-speed processing.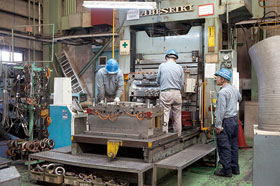 Molding
We hold the various molding machines which weigh 75-1300t and are engaged in the manufacture of the molding regarding the unfinished product, the coated product and the plated product for the exterior parts of the car.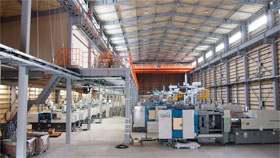 Plastic plating
We provide the characteristic plating such as the blackish smoked plating, the satin plating with the sense of quality including the lustrous chrome as the decorative plating. In addition, the original trivalent chromium plating which improved the reduction of the environmental disruption load and corrosion resistance has the same color and luster as the conventional hexavalent chromium plating.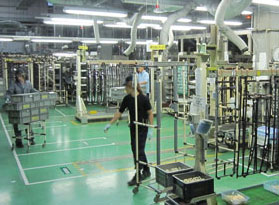 Painting
We coat various kinds of things such as coating which has the same colors and the textures with the body colors of vehicles, and the cost and the partial coating on the plating which match its design and pattern.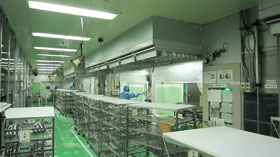 Assembly
We sub-assemble (assemble) the vehicle parts which have been done with plating and coat processing.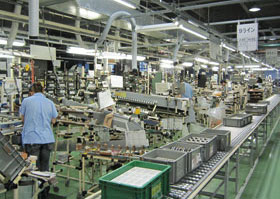 Metal plating
Mainly on the decorative chromium plating on the metal bumper we provide the plating.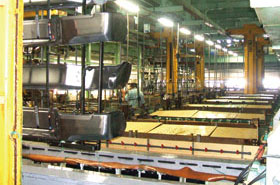 Functional plating (composite plating)
With the electroless plating (the chemical plating) which is excellent in the wear resistance and the lubrication we plate the product in the uniform thickness regardless of the shape at the high hardness.