Action to the Environment
The Action To International Standard "ISO14001"
Philosophy
We are acting based on the company motto that is "Be a man and serve the world".
The Policy
Kanto Kasei Co., Ltd. carries out environmental preservation activity by the following policies on the basis of producing the plastics product of the automobile parts and the surface treatment of the metal product as main business.
We appropriately take into consideration the environmental influence about the operation, the product and the service, and make the continuous improvement and make efforts to prevend the environmental pollution.

We keep the related legal requirements and the other agreement requirements.

We maintain the comfortable regional environment, and promote the product and the technical development with a less environmental load.

We pay attention to the energy saving and make every effort to effectively use important resources.

We make effort for the suitable management of the scientific material.

We promote the proper processing, the proper restraint, the reuse and the recycling of waste.

We specify the environmental objective and its goal, and all employees cooperate and perform the activity of the environmental disruption reduction. Also, we reconsider the purpose and the goal regularly.

We arrange the document for the environmental policy, make it known to all workers in Kanto Kasei Co., Ltd. without exception and open it to the public.
ISO14001 The Certificate of Registration for Management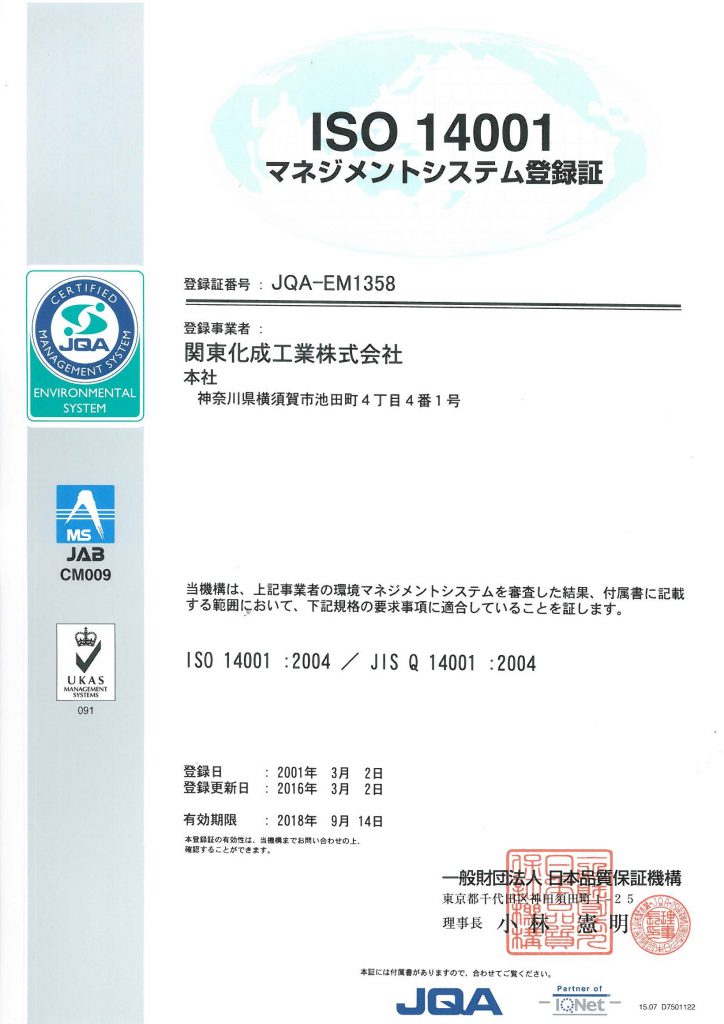 ISO14001 Appendix