Joint Venture Signing Ceremony with Toyota Auto Body
On January 11, 2013 (Thursday), a joint venture signing ceremony was held in Indonesia between President Takuji Amioka of Toyota Auto Body Co., Ltd. and President Kohichi Tanaka of Kanto Kasei Co., Ltd.
Established last February 2013, the company was named PT. Resin Plating Technology (RPT). The production is scheduled to start May of the same year.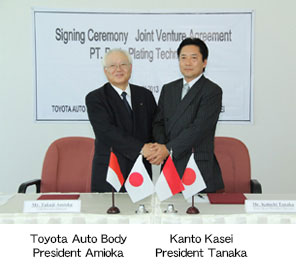 (The new company outline was published on December 26, 2012)